Pineapple isn't the exclusive fruit on pizza. Open your eyes and taste buds to pizza-filled world of possibilities, including figs, cherries, pears, and more.
Do you like fruit on pizza?
When pizza toppings come up in discussions, pineapple is often what divides a crowd of an otherwise friendly gathering.
I would like to point out that technically nearly every pizza in existence has fruit on it. In case you haven't heard, tomatoes are indeed a fruit. Yes I know we differentiate between the fruits we mistakenly identify as vegetables, mostly their level of sweetness, and thus it is that sweetness which deters people from liking it as a pizza topping. But have you tried the hot honey trend drizzled on top of your pizza post-oven? If you like that you should give sweeter fruits a chance too.
Now I'm not just talking pineapple, although that it a very divisive subject alone, but all kinds of fruits. In addition to being on team pineapple, I have also enjoyed pizzas topped with cherries, mango, figs, peaches, strawberries, and even apricot.
As such, I decided to round up some other tasty pizza recipes that include fruit as one of their toppings. You may not be willing to change your stance on pineapple, but what about some of these? Here are 16n other options to consider:
Fruit on Pizza Recipes
BBQ Bacon Mango Pizza by The Spiffy Cookie – If BBQ pizza and Hawaiian pizza got together and had a baby, this would be the result. Tangerine hatch chile BBQ sauce topped with bacon, mango, red onion, and mozzarella.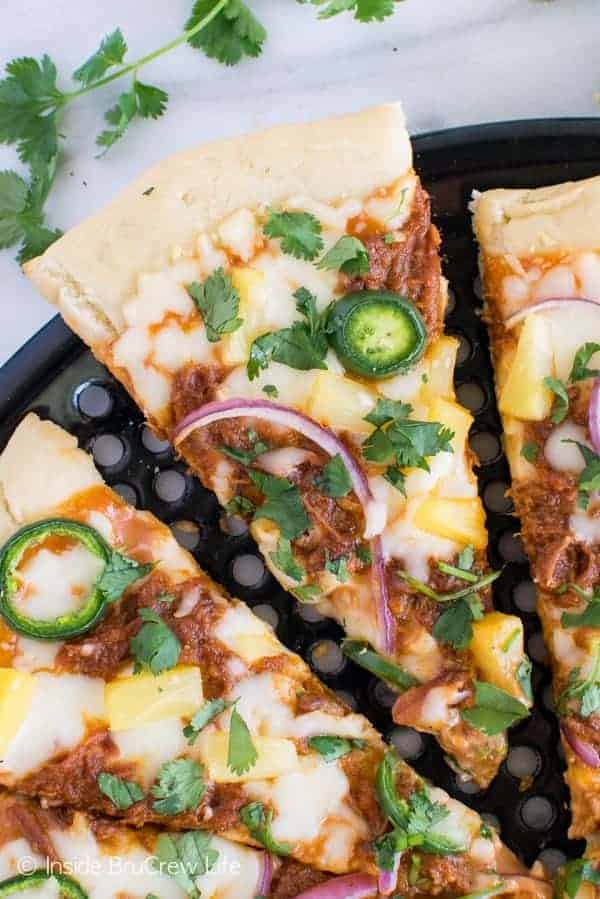 BBQ Pork Pineapple Pizza by Inside Bru Crew Life – This BBQ Pork Pineapple Pizza is a delicious way to add a twist to an old favorite recipe. Change up your regular pizza toppings for this sweet and spicy combo!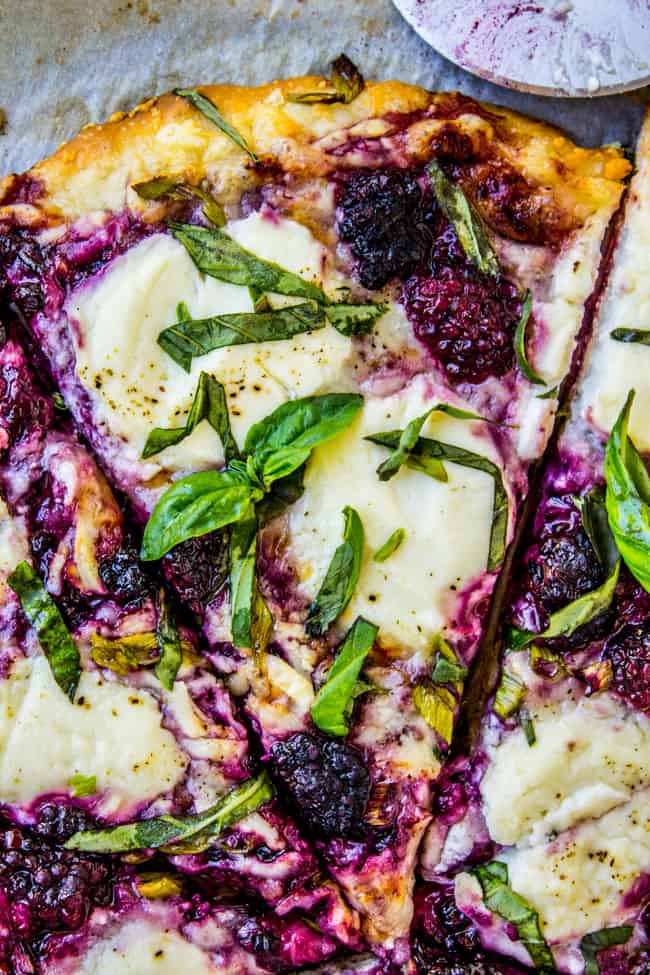 Blackberry Ricotta Pizza with Basil by The Food Charlatan – A simple ricotta pizza for lazy summer nights! It is mostly cheese and blackberries, which is a fabulous combo. Add some basil on top to make things a little more sophisticated, and you are on your way to an easy dinner the whole family will love!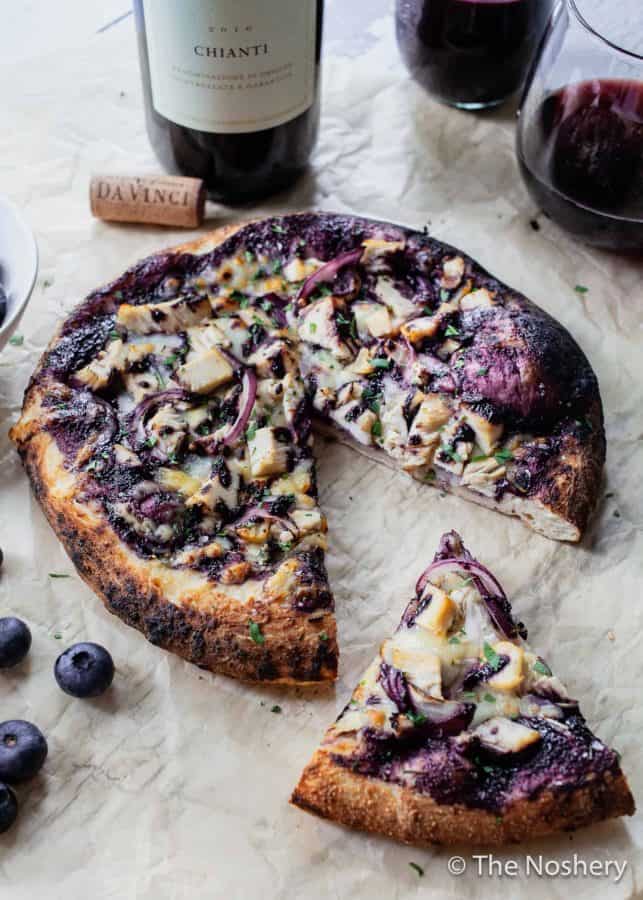 Blueberry Balsamic BBQ Chicken Pizza by The Noshery – A twist on the favorite bbq chicken pizza. The bbq sauce is made with a classic pairing, blueberries and balsamic vinegar. The blueberries give the sauce a natural sweetness and the balsamic vinegar give it just the right amount of tang. Just what you want in a bbq chicken pizza.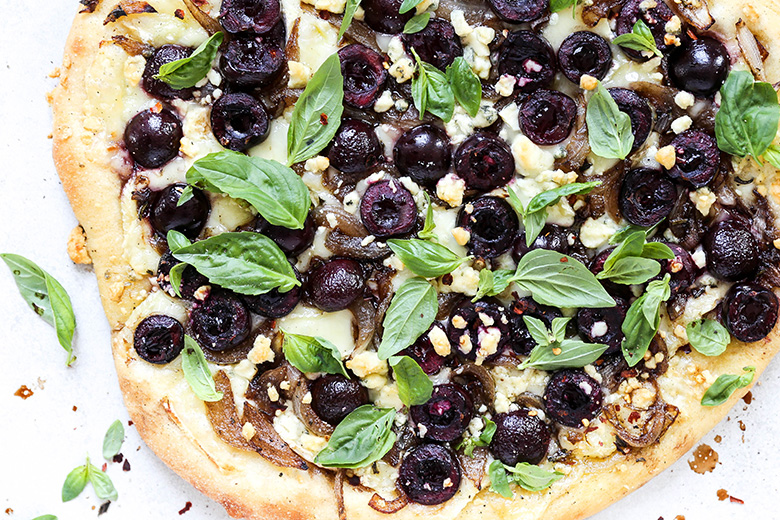 Cherry and Caramelized Onion Pizza with Brie and Gorgonzola Cheese by Floating Kitchen – not to be confused with the dessert cherry pie, this cherry topped pizza is ready for dinner!
Deep Dish Pizza With Brussels Sprouts & Bacon (with apple butter) by Healthy Delicious – Instead of traditional sauces, this one has apple butter underneath crispy Brussels sprouts and bacon and melted brie.
Fig, Bacon, & Blue Cheese Pizza by The Spiffy Cookie – Bacon and blue gets a new look with the addition of figs atop of a pizza! Snag up the fresh figs quick while they are still in season.
Fig Caramelized Onion Pizza by Nutmeg Nanny – This fig caramelized onion pizza is full of flavor and ready in no time. You'll love this flavor-packed pizza and be craving it all the time! Trust me, this pizza needs to be made ASAP!
Fig, Goat Cheese, and Kielbasa Sausage Pizza by The Spiffy Cookie – Get out of the regular pizza box and try something bold and new with fig butter as the sauce topped with goat cheese, and kielbasa sausage.
Fig, Prosciutto & Arugula Pizza by The Spiffy Cookie – Salty prosciutto, melty cheese, fresh figs, and peppery arugula. What more could you ask of this pizza?
Fig, Prosciutto, and Goat Cheese Grilled Pizza by Recipe Runner – Fig, Prosciutto and Goat Cheese Grilled Pizza is the perfect balance of salty and sweet and won't leave you feeling bloated and stuffed afterwards. This light and fresh pizza is the perfect dinner or appetizer to enjoy al fresco during the last few weeks of summer!
Grape & Gorgonzola Pizza by The Spiffy Cookie – Take white pizza to the next level with this grape & gorgonzola pizza. Complimented by a little rosemary and honey this pizza is a must for fall.
Peach, Prosciutto & Ricotta Pizza by The Spiffy Cookie – Try out a different fruit on your pizza with peaches! Along with prosciutto, ricotta, arugula, and balsamic glaze for good measure.
Prosciutto and Pear Pizza by Country Cleaver – Are you team fruit on pizza? Then this one is for you with fresh peaches, prosciutto, ricotta, arugula, and balsamic glaze for good measure.
Strawberry Spinach Salad Pizza by The Spiffy Cookie – Who else loves strawberry spinach salad? What if I served it on top of a pizza crust? Cause that's what this pizza is all about.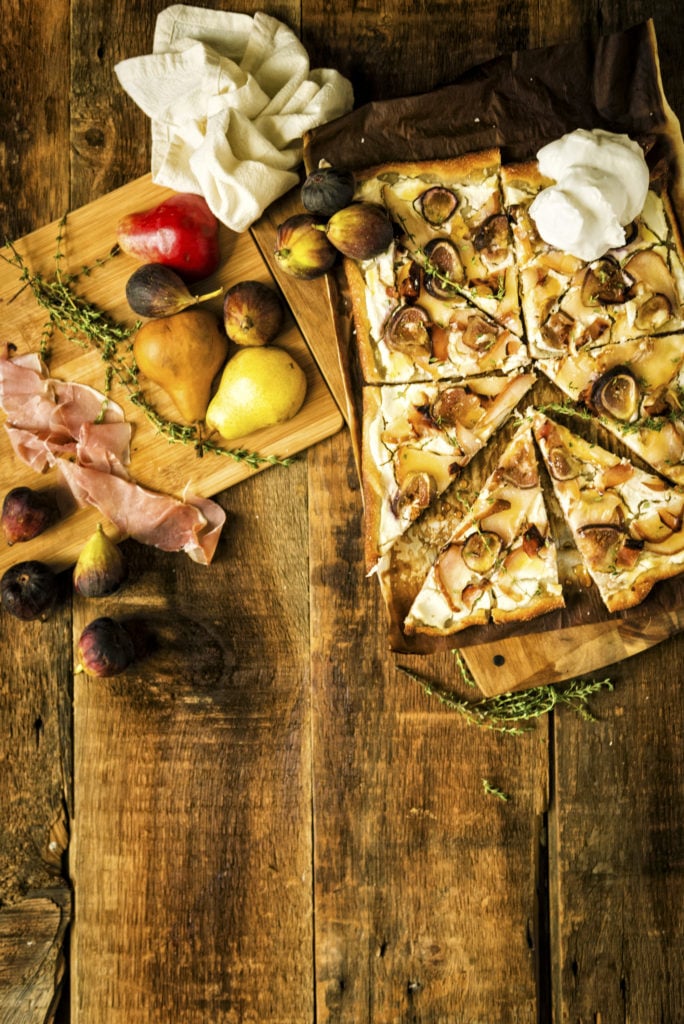 Savory Grilled Pizza with Fig and Pears by Girl Carnivore – Grilled pizza and dessert just met and it was spectacular. The flavor combo in this Savory Grilled Pizza with Fig and Pears Recipe is one you will be making over and over!
Sweet 'n' Spicy Hawaiian Pizza by The Spiffy Cookie – If you're a fan of pineapple on pizza, you have to try adding a little kick for the ultimate sweet and spicy Hawaiian pizza.
Which fruited pizza would you try first?
Three years ago: Sprinkle Chocolate Chip Cookies
Four years ago: Cinnamon-Sugar Blueberry Banana Bread
Eight years ago: Review: The No-Cook, No-Bake Cookbook
Ten years ago: Peanut Butter French Toast with Chocolate Syrup