Disclosure: This shop has been compensated by Collective Bias, Inc. and its advertiser. All opinions are mine alone. #CampbellsShortcutMeals #CollectiveBias
Getting dinner on the table on a weeknight is easy with this Mexican-style chili. It is much quicker to prepare than traditional chili thanks to Campbell Soup Company products at Walmart.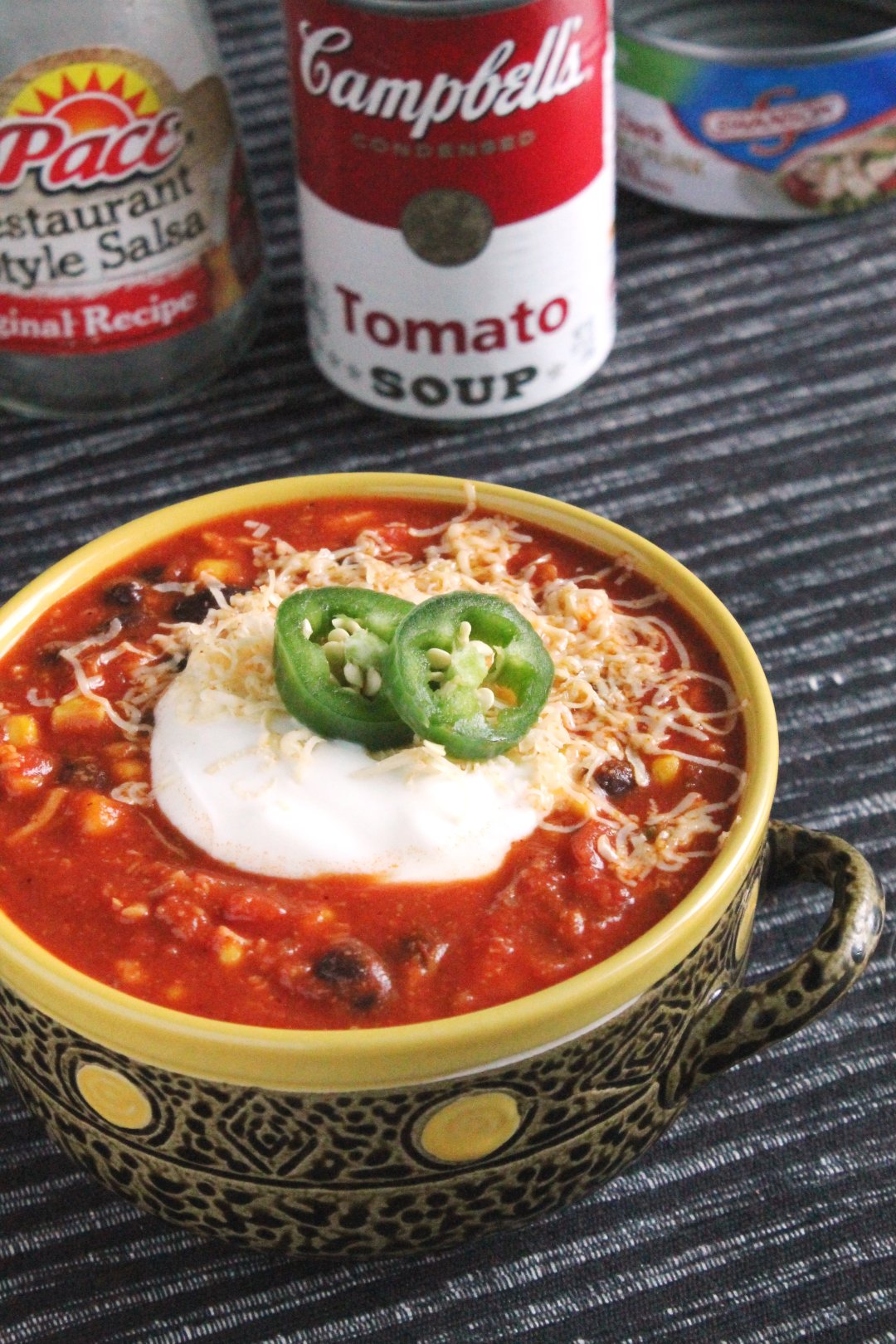 Ready to shop for delicious Campbell Soup Company product ingredients? Hover over the photo to click through to Walmart.com and purchase them!
Read the rest of this entry »
This post is sponsored by the Ohio Pork Council. All opinions are my own.
Let's get loaded – with pork! These nachos are piled high with BBQ pulled pork instead of taco meat followed by all of your favorite toppings.

Read the rest of this entry »
Spicy Mexican sausage is mixed with sweet pineapple in these Tacos al Pastor, which are my favorite kind of tacos! So easy you can make them any night of the week.

Read the rest of this entry »
These are not your every day stuffed zucchini boats, these are filled with taco meat to change up your next taco Tuesday.

Read the rest of this entry »
Party dips don't have to take a lot of effort to be tasty or fancy looking. This avocado dip is a creamier version of guacamole!

Read the rest of this entry »
This is a sponsored post written by me on behalf of Manwich for IZEA. All opinions are 100% mine.
Check out Manwich like you have never seen it before. These Mexican Manwich stuffed zucchini boats will impress your family any night of the week.
Skip the take out and make burrito bowls at home with this easy recipe for a slow cooker salsa verde burrito bowl, made with quinoa, black beans, corn, and avocado.

Read the rest of this entry »
Grilled polenta disks and spicy flank steak combines for a satisfying meal. Served with fresh avocado slices, queso fresco, salsa, cilantro and a squeeze of lime.
Don't close down your grill yet! Just because summer is coming to an end doesn't mean that grill season is as well. In fact for many people fall is the prime time to grill because it's football season. Grilling in the fall makes more sense anyway because who wants to stand over a hot grill when it's 90 degrees outside? Good thing grilling doesn't usually take very long. This recipe is a quick griller and even though it may not look like a lot on your plate it is surprisingly filling. The grilled polenta disks do the trick.
Then after you've satisfied your food cravings, check out some brain food. In case you haven't been stalking PubMed like I have, my second paper hit the interwebs! Hopefully it'll advance into print quicker than my first paper but the important thing is that I can change the status of that paper on my resume, at last! Having things published makes me feel like a smarty pants.
Two years ago: Peanut Butter and Chocolate Popcorn
Three years ago: Buffalo Chicken Meatball Subs
Read the rest of this entry »
As of Sunday, all of my belongings are either in a PODS storage unit or at my parents home. It was incredibly disheartening to see the apartment at which I have lived almost 5 years completely barren. My last night there was spent watching a movie with my parents on my computer, sitting on the floor of the living room while eating the last of my ice cream, followed by a luxurious slumber in a sleeping bag.
Since I wasn't quite prepared to leave Memphis yet, I am still residing here for a few extra days with my friend Maggie. I haven't decided exactly when I will leave and have a feeling it may need to be a "rip off the band-aid" situation where I leave without warning. I don't do goodbyes very well especially in times like this where I know I will turn into a sobbing idiot. Just a heads up to my Memphis friends – catch me while you can!
Anyway, yes I still have recipes for you this week because I am a psycho and made all of these before I packed up my apartment. Dedication or insanity? Either way you cannot complain. My godmother made this Mexican version of stuffed shells over the holidays and I immediately asked her for the recipe. For some reason I normally shy away from combining pasta and Mexican food but this was so incredibly good I had to make it again for myself.
The other day I was looking through my disseration to double-check on some information and I found a silly typo. There is a "he" where it should have been "the". Oh well too late now, it was sent off for printing two weeks ago! I have a feeling I will find more than just one minor typo in there as time progresses. It's difficult to find every little thing when you are staring at 187 pages of glorious information. Blinded by the light!
While we are on the subject of errors, I specifically bought scallions to garnish this dish and totally forgot. Apparently I was so hungry while taking photos that I didn't stop to notice or care because all I wanted to to was devour it! With its beautiful colors, creaminess and crunchy topping staring at me, you could hardly blame me. There was also plenty of kick. Mild-taste buds beware: you may way to omit the chipotle and use a mild salsa.
One year ago: Applesauce-Sweet Potato Pancakes
Two years ago: Crème Brulee
Three years ago: Big, Fat, Chewy Multichip Cookies
Read the rest of this entry »