Disclosure: This shop has been compensated by Collective Bias, Inc. and its advertiser. All opinions are mine alone. #CampbellsShortcutMeals #CollectiveBias
Getting dinner on the table on a weeknight is easy with this Mexican-style chili. It is much quicker to prepare than traditional chili thanks to Campbell Soup Company products at Walmart.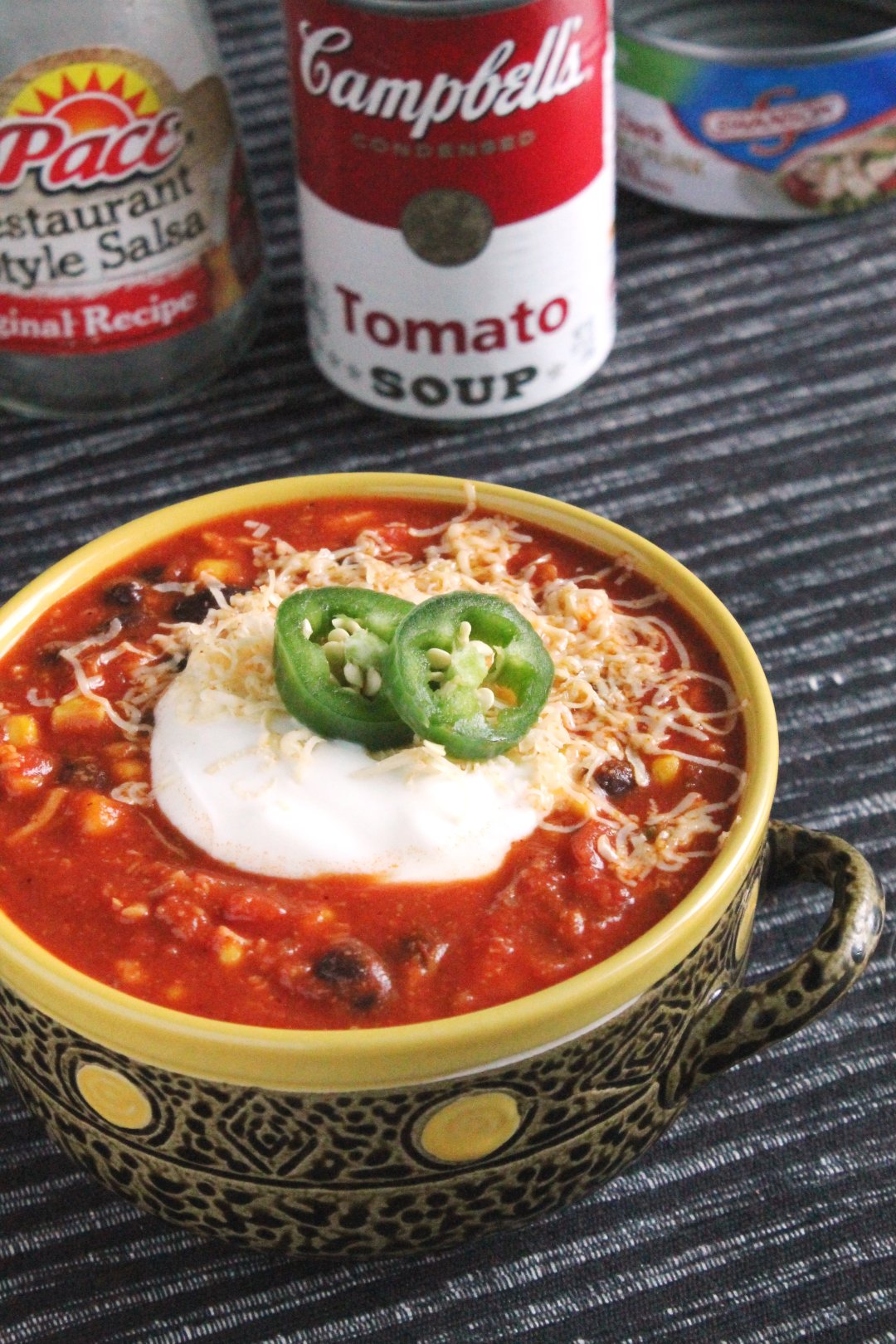 Ready to shop for delicious Campbell Soup Company product ingredients? Hover over the photo to click through to Walmart.com and purchase them!

Thanks to my dad being on a winning chili team when we lived in Texas, chili was a staple dinner item in my house growing up. As you can imagine, for years I refused to make any other recipe than his and would rarely stray from the ingredient list beyond making it a little bit spicier. But recently I went off the deep end and have tried every variation I could think of making. While his chili will always have a special place in my heart (and belly), the foodie in me must experiment!
Normally it takes at least 2-3 hours to make but that's not very weeknight friendly unless cooked in a slow cooker, which I have definitely done. This time around I decided to try my hand at a quicker version of chili with a couple substitutions to reduce cooking time and also change up the flavor a bit! For the base, I normally use a can of Campbell's® Condensed Tomato Soup, tomato sauce, tomato paste, and chili beans.
You can never go wrong with a traditional family favorite like tomato soup so I kept that in the mix along with the paste. But instead of the sauce I used Pace® to add a southwestern flavor along with some kick and instead of the chili beans I used black beans to create a Mexican-style chili. While I was at it threw in some corn for good measure. Then, in order to cut down on the cooking time I used already cooked, low fat Swanson® Premium Chicken.
I meant to take step-by-step photos to show you the process but honestly it's as simple as cooking the onion and then throwing in all the ingredients. As you can see, just because it's easy and quick doesn't make it any less fun and delicious to serve to your family. If your kids have heat-sensitive taste buds, be sure to pick up the mild salsa and a green bell pepper instead of a jalapeno. What are you secrets to successful weeknight meals?
One year ago: Banana Split Chocolate Chip Cookies
Four years ago: Greek Pizza with Greek Yogurt Pizza Dough
Six years ago: Peanut Butter and Oat Granola Bites
QUICK MEXICAN CHILI
Serves 6-8
Ingredients:
2 Tbsp olive oil
1 small onion, chopped
1 (9.75 oz.) can Swanson® Premium Chicken, drained
1 (10.75 oz.) can Campbell's® Condensed Tomato Soup
1 (16 oz.) jar Pace®
1 (6 oz.) can tomato paste
2 tsp cumin
1 tsp chili powder
1 tsp garlic powder
1 tsp salt
1 (15 oz.) can black beans, drained
1 (15 oz.) can corn kernels, drained
1 jalapeno pepper, chopped (or 1/2 small green bell pepper for a milder flavor))
1/2 cup shredded cheddar cheese, plus more for topping if desired
Directions:
In a large pot over medium heat, warm olive oil and cook onion until tender. Add all remaining ingredients except the cheese. Thoroughly mix and reduce heat to medium-low. Simmer uncovered, stirring occasionally, for about 30 minutes or until thickened.

Add cheese and simmer for a couple more minutes until melted. Serve with additional cheese on top, sour cream, jalapeno, or tortilla chips if desired.
Source: Adapted from my dad's chili.