This shop has been compensated by Collective Bias, Inc. and its advertiser. All opinions are mine alone. #CurbsideConvenience #CollectiveBias
These banana corn fritters are sweet and savory with a little heat, making them the perfect side dish to your favorite BBQ meats.


I am one of those weird people that actually likes grocery shopping. I enjoy finding sales and checking out the new/seasonal products available. But sometimes despite my enjoyment I do not have the time to wander through the aisles. So when I found out that the first 3 grocery orders using Giant Eagle's Curbside Express were free, I loaded up my virtual grocery basket. I was impressed by how easy it was to shop for everything on my grocery list, including bulky items like Bounty white select-a-size paper towels, heavy items like Diet Coke 12-pack fridge pack, meat like chicken legs, and fresh produce like bananas (I was even able to request a few ripe and a few green). Then you just have to schedule your pick up time!
Upon arriving at my local Giant Eagle, a friendly personal shopper let me know that a couple of items on my grocery list were not available but offered alternatives. After finalizing the list, he loaded all my groceries into my car – talk about feeling spoiled. I could get used to using Curbside Express!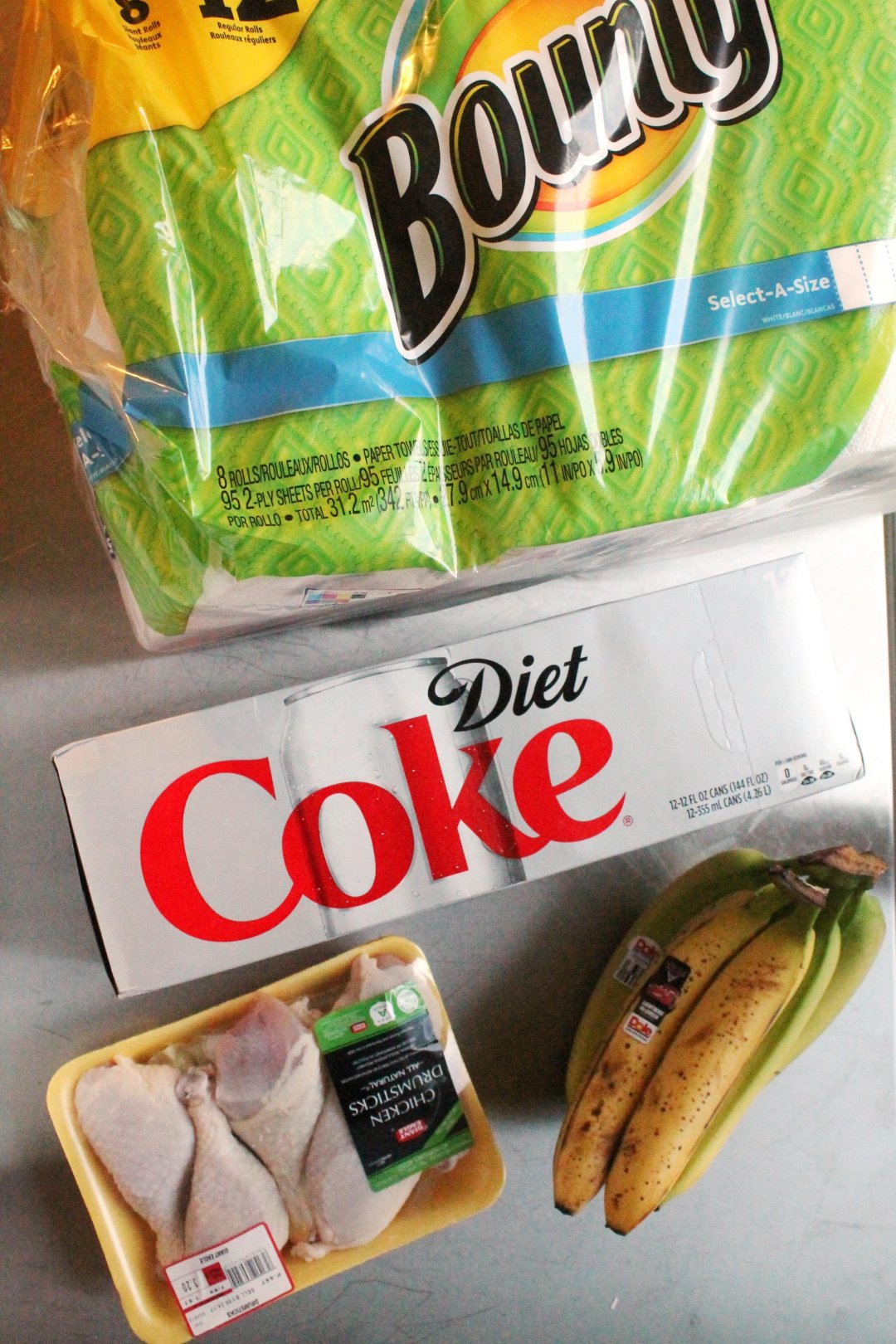 Want to add these items to your grocery list? Hover over the photo over in order to click through and purchase.
Upon returning home with my grocery haul, I immediately set out to cooking dinner. If I had shopped for the groceries myself, we would have been dining or ordering out for dinner because it would have been too late to cook. Curbside Express FTW! But anywho, I am grasping onto every last whisp of summer that remains so dinner was BBQ grilled chicken legs with coleslaw and banana corn fritters.
Corn fritters always remind me of my mom because she's the only person I knew growing up that made them. She didn't cook many things but what she did make was always interesting and tasty (such as her pineapple burgers, jalapeno cornbread, haystack cookies, and pineapple cranberry zucchini bread). I've always loved how sweet yet savory and cripsy yet fluffy they are. We usually ate them for breakfast smothered in maple syrup just like we were eating pancakes, which after having a father who we dubbed the pancake king, pancakes were a staple in life.
I've actually posted my mom's corn fritters on my blog before, maple syrup and all, but added bacon into the batter. Heck they've also appeared on a breakfast burger and as a sweet dessert option in the form of shortcakes. Today is another adaptation of her recipe where I substituted the creamed corn with mashed banana and added some chipotle chili powder for a little heat, making them the perfect side dish to some BBQ chicken legs!
One year ago: Fig, Bacon, & Blue Cheese Pizza
Two years ago: Top 10 Favorite Peanut Butter & Chocolate Recipes
Three years ago: Nutty Edamame Dip
Four years ago: Gnocchi, Sweet Corn & Arugula in Cream Sauce
Five years ago: Reese's Peanut Butter Oatmeal Breakfast Cookie
Six years ago: Almond Berry Overnight Slow Cooker Oatmeal
BANANA CORN FRITTERS
Serves 6
Ingredients:
1 egg
1/4 cup milk
1/2 cup all-purpose flour
3/4 cup yellow cornmeal
1 tsp baking powder
1/2 tsp chipotle chili powder
1/2 tsp salt
2 large ripe bananas, mashed (about 1-1/2 cups)
14.75 oz. can corn, drained
Cooking oil to depth of 1 inch
Directions:
In a medium bowl, blend egg and milk. Add flour, cornmeal, baking powder, chili powder and salt and stir until mixed. Add mashed bananas and mix in until evenly distributed. Fold in corn.
Heat oil to 350 degrees (or test by dropping a small bit of batter into the oil, it should sizzle immediately). Drop by spoonfuls and cook until golden, about 2 minutes then flip to cook the other side. Drain on paper towel-lined plate. Serve immediately.
Source: Adapted from my Mom's corn fritters.